Illuminosi is a small company, made up of former big-company people who want to provide engineering services to young startups and large firms alike. We are all engineers at heart who love to "design stuff", interacting with the stakeholders directly to achieve the best design. Sometimes this means a deep dive into design documentation, but more often it means whiteboard meetings and many questions to ensure that we understand the issues the same way you do.
Having been through a large number of different environments, we understand what it takes to create an efficient engineering environment. Internally, we are Linux, Apple and Windows agnostic. All our schedules are developed bottom-up for accuracy and buy-in. Our tools are chosen for the applicability and support they offer. We are never afraid to try out new tool chains and hold no allegience to what we have used before. Of course, we do keep old tools around for maintenance needs. Our tools and infrastructure are designed to be used by our staff from remote locations, keeping us productive when traveling. Our security systems are constantly being updated as well to keep the unthinkable from happening.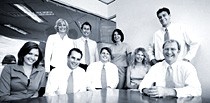 Our management team understands development priorities like few companies do. We have the unique privelege of working for some of the largest software and hardware engineering companies Microsoft, HP, Toshiba, SK hynix, Western Digital in the world. At the same time, we also have been involved in the founding of several venture capital and private funded startups Consera Software, Saber Technology, ATC Graphics, Illuminosi .
Having the big-company background has given us the experience and vision to structure a company that delivers reliable, capable engineering without the overhead of a megafirm. We aren't handicapped by layers of management, so communications happen quickly and smoothly. Our developers will be in direct communications with your staff; discussing issues of user interaction, performance or usage scenarios. This gives us the ability to deliver products that are right the first time.
Illuminosi has been involved with many diverse industries:
Software
Storage devices
Semiconductors
Graphics chips
Energy- nuclear and coal
Financial services
Government and public services
Heavy Manufacturing
Life sciences- healthcare and pharma
Military
History of Illuminosi
---
6/1/2019
Illuminosi offers standards services to the storage industry. This may be the biggest equalizer in the storage industry since the introduction of SATA.
11/04/2011
Illuminosi develops its first Android application that gathers real time weather data and displays it on Android tablets. This is specifically designed for cruising sailors who want to keep their vessel in optimum sail trim. Future versions will be geared to the needs of competitive sailors as we understand their needs better.
11/25/2007
Illuminosi ships network control application for Response Biomedical, providing Windows application development expertise. The application is fully localizable for their international markets, and 64 bit neutral.
9/17/2007
Illuminosi develops community sites for medical and musical applications. In one case, medical diagnosis and specialist referrals are made easier, while in the other scheduling and sheet music storage is provided.
11/27/2005
Illuminosi completes their first consulting contract, providing a database application to a military client. This database uses the latest in Microsoft's .NET and SQL technologies and will fill a much needed gap in the client's technology arsenal.
12/05/2004
Illuminosi incorporates
While working for some of the top software companies in the world, the founders of Illuminosi saw that it was time to provide what others had not- software development services for small businesses. Illuminosi is established to provide system development services for Web, Windows and Linux/Unix/Android platforms.


Contact Us